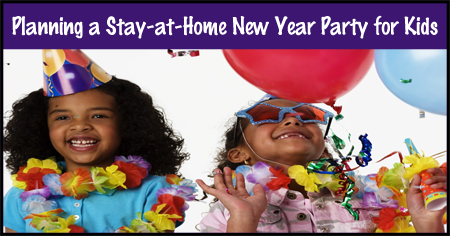 Welcoming New Year with kids is a great way to rejoice the arrival of the New Year. Read on to get some ideas if you are planning a stay-at-home New Year party for kids.

New Year party is one of the most exciting and awaited event for everyone. In fact, kids get more excited and want to have lots of fun as well.
Spending
New Year
eve and planning a party at home with kids sounds great for almost all parents. It is a great time and idea to strengthen your bond with kids and have fun together. However, when you plan a stay at home
party
especially with kids, you have to be well prepared. Make a plan beforehand about how you would like to spend the night and what would you like to add to the party so that it gets personalised. Here are some tips which you can follow.
Planning New Year Party with Kids at Home

Here is how you can plan a
New Year
party with kids at home.
1. Plan Ahead

The most important part of throwing a party is its planning. Even if you are planning a party with your kids at home, plan everything what you would like to do. Outline and picturize the evening so that it becomes easier for you to plan out.
2. Food

The most important part is food. So, you need to be sure whether you are going to have homemade food or you would like to order something. It is a good idea to opt for homemade food because you will have a great time together and with homemade food, the strengthening will be even better. Ordering food might be troublesome because there will be extreme rush that day and maybe you will have to compromise with the quality or pay more.
3. Decoration

Since the party is at home, do not overlook the decoration part. You can make a basic theme of the party and decorate your house or place where you are planning the party. Make snowflakes out of paper or decorative craft papers, add balloons of different colours and take care of the entrance also.
4. Entertainment

Just like food and decoration are important, entertainment part is also very important. It depends on your common field of interest what you choose for entertainment. If all of you have interest in
board games
, then plan a series of
games
and have lots of fun playing together. If you have a common interest for movies, plan a marathon movie watching evening where food items and beverages can be served in the breaks. You can also spend the evening watching different programs broadcasted on TV. The choice is yours and the options are in abundance nowadays.
5. Dress

Last but not the least. Since you have the New Year party at home, you might not take this into account. When you go for a party you dress up not just because you are going out, but because it gives you the feel of the party. Get that feel even if you are planning a party at home. After all, you are spending a special day at home with your kids.
Involve everyone in every step related to the New Year party. It does not matter if the kids are young or a little grown up, they are going to enjoy everything especially when it is done together. Make them a part of planning, decoration and also involve your kids in cooking or during preparation. Assign some work considering the age of your kid and the whole house will turn out to be busy, excited and a fun filled environment will prevail in the house. This will add to the full on enjoyment you are looking forward to and you will get even more than what you expected.

How to organize a stay-at-home New Year Party for kids? Which are the popular New Year party games for kids? What kind of eatables should be served during New Year party for kids? Discuss here.