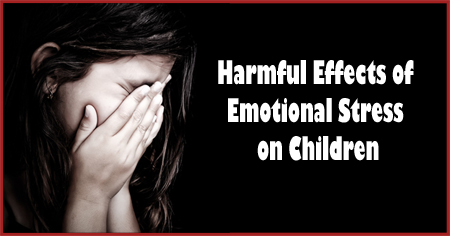 Not only adults but also children are affected by stress. Therefore, it is a must for parents to mark its signs and intervene in order to prevent its harmful effects. Read on to learn more about the harmful effects of emotional stress on children.
The world of children is always viewed as a happy, carefree world of play and fun. However, modern studies on child psychology tell us that children do experience stress and tension to some degree. Stress can come from a variety of factors such as trying to fit in with their particular group, trying to excel in studies and managing the academic and social expectations of parents and teachers.
Some other children are stressed out from an overscheduled timetable, family issues or even world news if it affects them. Young children do not know the exact word for their
emotions,
therefore it is up to the parents to talk to their children and look out for any suspicious signs of stress they might be facing.
1. Negative Changes in Behaviour
As said, younger children find it difficult to express their feelings with no appropriate word for it and resort to
bad behaviour
to let out their frustration. Some of the changes can include an irritable behaviour, withdrawal from activities they usually enjoy, expressing worries, complaining about school, clinging to a parent or even daily routine changes.
Slightly older children might withdraw from both family and close friends, and get into frequent arguments. They may even abandon their old friends and join a new set of peers who can actually turn out to be harmful for them.
2. Complaining of Physical Illness
Stress can also be displayed by complaints of physical sickness such as stomach ache and headache even when the physician declares them to be fine. Sometimes, the child might actually fall sick before a test. If this is a regular phenomenon, get your child checked by a child's doctor for signs of emotional stress.
3. Changes in Child's Interaction with Peers
Psychologists always encourage parents to talk to their children about their day at night. On the other hand, they should also keep in touch with the child's teacher and friends to keep a tab on their child's behaviour outside of home. Whereas smaller children might become withdrawn and reluctant with friends, older children can end up being withdrawn from their friends, inattentiveness in class, being bullies to their classmates or simply defying authority.
4. Having Nightmares
Having problems with sleep can be harassing enough but continuous nightmares are big a source of problem for both the child and parent. If your child continuously wakes up in the middle of the night complaining of nightmares, exams and
stress,
it is a cause of concern and the child should be examined by a physician immediately. Other signs of stress shown by the child could be
bedwetting,
thumb sucking, hair twirling or nose picking. Older children will resort to telling lies to hide their stress and
fears
from their parents and teachers.
5. Their Use of Certain Words
Children at different ages will use different words to express their stress such as 'confused', 'worried', 'annoyed' or 'angry'. Older children will start complaining about the world around them and even start demeaning themselves. Parents must be perceptive to get the hidden meaning behind these words and try to find out the reason behind their children's stress. They can also display a general pessimistic mood and an unhappy disposition towards their everyday life.
Parents must encourage and support their children to tell them about their day which help them to understand their problems. If such issues are left unattended, such children can grow up to be emotionally insecure beings who would not be able to enjoy their lives. If you suspect the above signs of emotional stress, consult a counsellor immediately who are specially trained to understand the problems of stress and would be able to help the child out.
What are the causes of emotional stress in children? How to prevent emotional stress in children? In what ways can parents help children to deal with emotional stress?Discuss here.