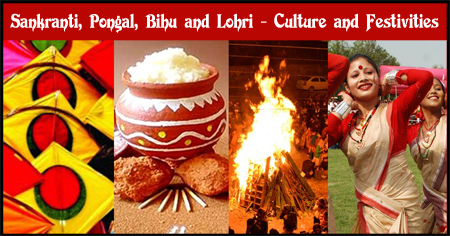 Makar Sankranti, Pongal, Lohri and Bihu are festivals which are celebrated across India with great fervour and joy. Although, these festivals have different names, the essence of celebration remains the same. Read on to learn about the significance of these festivals.

Sankranti, Pongal, Bihu and Lohri are different names of the festival celebrated in different parts of India to rejoice the time which is the end of winter season and welcome spring season and the New Year.
Makar Sankranti
is celebrated in Maharashtra and Gujarat, Bihu in Assam, Pongal in Kerala or South India and Lohri in Punjab or North India. All these are celebrated on the auspicious day of Sankranti. The celebrations of these festivals usually start on 13th January every year.

Lohri

Lohri is a festival celebrated mainly by Punjabis. Normally, people connect Lohri with celebrating the decline of winter, but it is a festival of celebrating the harvest of the Rabi crops. Usually, this festival is celebrated on 13th or 14th of January every year. The fires are lit at night and singing and dancing goes on around the warmth of the fire. People gather together and rejoice wishing each other happiness and prosperity in life.
There are many interesting folk legends and socio-cultural stories connected with Lohri. However, Lohri is a festival dedicated to the Sun and Fire God. It is a time to bid good bye to winter by singing and dancing around bonfire in a socializing mood. People offer peanuts, popcorn and sweets to fire god.
Makar Sankranti

Makar Sankranti is a very popular festival of India and is celebrated in India and among Indians in other countries with enthusiasm. Hindus believe that after this auspicious day, Lord Sun starts his journey northwards and enters the zodiac sign of Makar. Sun, is not just the manifest God, but he symbolizes power and strength. It stands for personification of knowledge and wisdom.
Normally, the dates of the Hindu festivals change, but Sankranti has a fixed date and that is, 14th January every year. This is because Sankranti is a solar event. Since the other festivals of Hindus are based on lunar positions, their dates keep changing. Another significance of celebrating this day is that from this day onwards, the days get longer and this shows decline of winter. On this day ladoos made of jaggery, peanuts and
sesame
are made and distributed amongst friends and relatives.
Pongal

Pongal is a four-day long festival celebrated in southern states of India. It is also a harvest festival and is thanksgiving to nature. This is the time when important crops like rice, sugarcane and turmeric are harvested. Traditionally this is the wedding season also and is believed that knotty family problems get solved because the auspicious and blessed month begins this day.
The festival usually falls on 14th or 15th of January and on the first day homage is paid to Lord Indra for bringing prosperity to land. Bonfire is lit and girls dance around it. On the second day rice is cooked with milk in an earthen pot.
Puja
is performed and men and women wear traditional dresses. Third day is Pongal for cows and on the fourth day a typical ritual is performed by all women of the household.
Bihu

Bihu is celebrated in Assam and its start can be traced back to ancient times. There are three such festivals celebrated in Assam and the one celebrated in mid-January is called Maagh Bihu. The folk songs associated with this festival is called Bihugeet and girls dance and sing songs of love and romance. The festival is basically focused on eating and merry making. This denotes the end of harvesting season so people feast and enjoy on this day.
Similarities Between Four Festivals

Although, Makar Sankranti,
Pongal
, Bihu and
Lohri
are celebrated with different names, there are lot of similarities in them. These festivals are celebrated during the same period. Sweets made during these festivals are made especially with jaggery and sesame. The main motive of celebrating this festival is merry making with friends and relatives, forgetting all the bitterness, forgiving and making the bonds of love even stronger.
It does not matter what festival you celebrate or what culture you follow, you will find special sweets like gajak and revri available almost everywhere in India. All the above festivals are also celebrated to thank God for the good harvest, to begin a new year for which they seek blessings and have lots of fun. Rejoicing is not complete without sweets and delicious food items and so special dishes of the specific area to which people belong are cooked, served and enjoyed.
Which are the harvest festivals of India? What kinds of sweets are prepared on the occasion of Makar Sankranti, Pongal, Lohri and Bihu? What is the similarity between Makar Sankranti, Pongal, Lohri and Bihu? Discuss here.