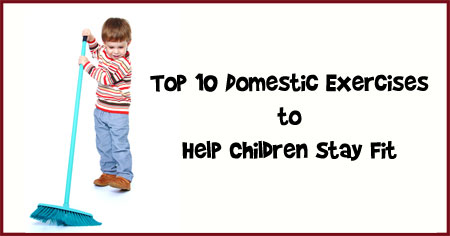 Involving children in some household chores can serve as a domestic workout for them. Take a quick look at top 10 domestic exercises for helping children stay healthy and fit.

The modern generation is faced with a lot of issues like a sedentary lifestyle, excessive consumption of junk food and lack of activity; all of which make maintaining
good health
problematic. When it comes to fitness the earlier you start off in your pursuit of fitness the better it is. Introduce your kids to these exercises to ensure
fitness
.
1. Squat Mopping
Ask your kids to take a wet mop and squat on the floor while wiping it. Give them a specific area to clean and if you have more than one kid then mark those areas separately. Squatting and mopping the floor burns abdominal puppy fat and energises the core muscles.
2. Cleaning Top Shelves
Asking your children to stand on tip toe and clean shelves or bookcases is a good idea as it helps them stretch their limbs. You can ask younger kids to jump up with a feather duster and try clean top of shelves they cannot yet reach. This exercise gives the same benefits as skipping.
3. Running Errands
Send your kids to the grocer to fetch you bread. Or ask them to run upstairs and get your file. Give them errands to run and all the running around will keep them busy and prevent them from becoming couch potatoes. The trick is to keep your children busy so their blood circulation is always up.
4. Gardening
Give your kids each a small patch of earth which they can nurture, cultivate and turn into something beautiful. Watering the plants, digging soil, pruning leaves are all
exercises
that are both good for the body and soul.
5. Filling Laundry Basket
Ask children who are more than 5 years old to keep the laundry basket ready by collecting all the used clothes that are all over the house. Gathering all the used clothes from all over the house will involve a lot of moving around which will keep children active and their
body
energetic.
6. Helping in Cooking
Give one of your kid's kitchen duties each day when he or she will help you in peeling vegetables, washing them and help you in preparing food. Cooking is an art that requires great hand to eye coordination and its good for keeping kids nimble and smart.
7. Changing the Sheets
Changing the sheets is a simple domestic exercise that will stretch the muscles and strengthen the core body. For smaller children it can be as good as a mini workout. Also your children will start appreciating the importance of cleanliness.
8. Mowing the Lawn
Give your kid (over 7 years old) a lawn mower and ask him or her to get the lawn back in shape. Using the lawnmower enhances the motor skills and most kids will prefer this over other kinds of tasks.
9. Vacuuming the House
Teenagers can be given the responsibility of vacuuming the house. Using a vacuum cleaner requires hand to eye coordination and development of a sense of direction. Hunting out specks of dirt and dust will also make kids more observant. This is an excellent domestic chore that strengthens both body and mind.
10. Drying Clothes
For young kids keeping clothes outside to dry and then taking them off again after they have dried off can be an easy exercise. Not only will this require them to stretch up to reach the clothes line, they would also have to go out in the fresh air. Given the tendency of modern kids to become
couch potatoes
, this is an activity that will require them to breathe in some fresh air.
Ensure that your children do these basic chores as these will teach them discipline, fortitude and exercise their minds as well as bodies. One day your kids will thank you for leading them on the path of a fitter life.
How to encourage children to stay fit? What kind of chores can serve as domestic exercises for children? How to prevent children from becoming couch potatoes? Discuss here.