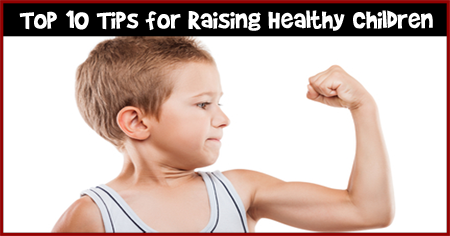 Do you want to raise your children into healthy and well balanced individuals? Have a quick look at these top 10 tips right away.
All parents have a duty to raise their children in a healthier way. Inculcating healthy habits at an early age can help the child to stay healthy and strong for her entire life. In this modern era, all parents want their kids to become a remarkable person with respect to their appearance as well as their intelligence.
Unfortunately, parents miss out on many essentials for their children that can lead to problems like low IQ, obesity, attention disorder, immune system illness, stunted growth, infections and many other frustrating issues. Though the society is familiar with all these concerns these days, it is better to take some steps to avoid such an occurrence in any child.
Tips to Raise Healthy Kids
Trying out some ways to raise healthy children would be a good idea while parenting. Have a quick look at the top 10 tips for raising healthy children.
1. Encourage Your Children to be Active
A recommendation from CDC (The Centers for Disease Control and Prevention) is to make the children take up 60 minutes of physical activity in a day. Though it sounds bit tough, break up the timings with the help of intervals in between. Encourage your children to participate in activities like running, jogging, exercise, yoga or outdoor sports.
2. Reduce the Screen Time
If children are spending more than 5 or 6 hours on their mobiles, television and internet, it can be termed as an excessive media usage. Such kind of an excessive media usage can result in eating disorders, disturbed naps, obesity, and poor attention span. Children should not be allowed to spend more than an hour in such activities to prevent health problems in them.
3. Provide a Healthy Meal
Nowadays, kids are much fond of fast food items and junk food stuffs. If they indulge in such foods they tend to avoid healthy meals. As a parent you must encourage your children to have simple and healthy meals with fresh veggies, fruits and fiber filled diet.
4. Involve Children in Cooking
While preparing meals at home, teach the cooking skills to your children which is a good way for them to know about nutrition. There are many people who love to cook by themselves and eat those foods.
5. Encourage Children to Stay Hydrated
Encourage your children to drink more water. Provide a bottle of water to carry with them while going to school or while being outdoors.
6. Avoid Introducing Junk
Avoid giving unhealthy snacks to your children. Such snacks may later on draw their attention towards them and make them say no to nutritious stuffs. So, it is better not to buy such unhealthy snacks and tempt them. Chopped veggies or sliced and crushed fruits serves ought to be a good option for snack time.
7. Allow Your Child to Express her Feelings
Though you are busy with your professional work and other family concerns, take some time and always permit your children to express or share their feelings and problems. Listen to them with open-mind and never judge immediately if they are wrong. Raise questions or provide proper response when required. Work together to find a right solution for any kind of issues they have.
8. Humor Supports for Health
Instead of being serious all the time or throughout the day, crack some jokes at home and make the place joyful. It enables the kids to think creatively and face many challenges without stress.
9. Do Not Target for Perfection
Nobody is perfect in this world. Hence, it is impossible for anyone to get the success immediately. Therefore, you must stop forcing or torturing your children to perform any activity with high perfection. Such things can a put a lot of stress on their health and they may fail to do even a normal task.
10. Encourage Family Time
During weekends or holidays, have breakfast, lunch, and dinner with the family. Family time will help children to develop healthy relationship with everyone at home. It will also help to strengthen the bond between parent and child.
Along with following all the above tips, you must also encourage healthy habits in your children. Going to bed early, brushing twice a day, maintaining personal hygiene etc. are very important for living a healthy life. Healthy habits indeed are the foundation of a healthy life.
How to raise healthy and well balanced children? What are the ways to inculcate healthy habits in children? Why is it important to inculcate healthy habits in children? Discuss here.