What is Cleft Lip and Cleft Palate?
A cleft lip is an opening in the lip, which is seen at the time of birth. A cleft palate is an opening in the roof of the mouth.
Clefts result from incomplete development of the lip or palate while the baby is in the womb. Babies' lips and palates develop separately during the first three months of pregnancy. In most cases, the left and right parts of the lip come together, or "fuse," creating the two vertical lines on the normal upper lip. In a similar way, the left and right parts of the palate come together to create a normal palate. If your baby has a cleft, this fusion failed to happen when he or she was developing.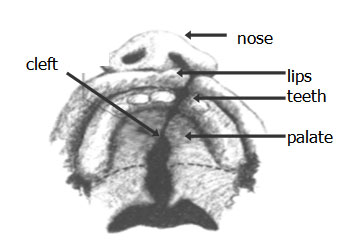 How Do Parents Feel When Their Child is Born with a Cleft?
It is natural for parents to feel upset at this time. Feelings of concern, anxiety, and grief are not unusual. Your family physician and the hospital staff members will guide you to a team of specialists who can provide you and your baby with the help you will need. But do not blame yourself for what has happened. It is not your fault.

Why Didn't Our Baby's Mouth Fully Develop?
In most cases, we simply don't know why lip and palate development go wrong. Scientists have learned that there are many possible causes for clefts. Research is under way to discover more about these causes.
About 1 in 800 baby has a cleft lip and 1 in 1200 has a cleft palate.


Boys are more often affected than girls.


In some families, clefts appear in several family members, so heredity is important.


Sometimes substances in the environment, called teratogens, may be associated with clefts.
But most babies with clefts have no known relatives with clefts and no known exposure to teratogens.
We still don't know the exact answer to this question, but it was not because you did something wrong.

What Happens Now?
Remember that cleft lip and cleft palate are not life threatening for your child. Surgical repair of the cleft is done by choice.

So What Can Be Done to Help Our Baby?
A cleft lip should usually be repaired in the first few months of life. A cleft palate can usually be repaired some months later. The doctor who performs the surgery will determine the exact timing of these repairs. i.e. it can be done when the child is the right age and size and is in good enough general health to tolerate surgery
Surgery is often done in several stages, for a complete cleft of lip and palate a minimum of 4-5 surgeries are required. The total number of surgeries depends on how the child has responded to the previous surgeries. Parents are usually eager to have at least the visible cleft lip repaired early, but this is often not done until the baby is 3 months or weighs around 4-5 kilos. Later, the cleft can be corrected by bringing together the tissues that should have fused before birth. Before the abnormality is corrected with surgery, a prosthesis, or artificial palate, may be used (if recommended by your doctor) to fill the gap in a cleft palate so that your baby can nurse.

What Are The Problems My Baby Is Likely To Face?
Depending on the extent and location of the cleft the following problems may occur.
Speech and language problems
Other associated problems

So How Can Our Baby Be Fed Properly?

Some babies with clefts have very few or no problems feeding, while others have more difficulty.
Generally, cleft of lips do not hamper the process of feeding. Depending on the extent of the cleft in the palate the baby can have difficulty feeding.
Use of special bottles and careful positioning of the baby are sometimes helpful modifications.
Breast milk or formula can be fed with a soft plastic bottle and an extra large nipple opening. This special nipple allows the milk to flow at a rate comfortable for the baby to swallow. But preferably the best way to feed the baby is with a spoon and cup


Important Tips While Feeding:
Give the baby small frequent feeds and increase the number of feeds.


Confine the feeding period to 20 min, certainly no more than 30 minutes.


Burp the child after every feed.


Regularly monitor the weight of your child.
Position- Feed the baby in a slightly elevated position. Do not keep the baby flat on the bed or your lap while feeding.
Will Our Baby's Teeth Grow Properly?

If the cleft affects only the lip, the teeth will probably not be affected. If the cleft affects the gums where the teeth grow, your baby will probably need the care of dental specialists.

Will Our Baby Have Trouble Learning to Talk?
If the cleft affects only the lip, speech problems are unlikely. However, many children with cleft palate need the help of a speech pathologist, and some may need an additional operation to improve their speech.
A cleft child generally has articulation problems. Comprehension is generally not affected in these children. Monitor your child's comprehension skills. Visit a speech language pathologist for advise on the same. The goal is to help the child develop normal speech as soon as possible.

What Other Problem is My Baby Likely to Have?
Children with clefts have ear infections more often than other children. The cleft allows fluid and germs to enter your child's ear more easily than normal. All children with clefts need to have their ears checked regularly by their doctor. If the ear related problems are not tended to in time, it could lead to a considerable degree of hearing loss.
Your child will also need to see a dentist often, because children with clefts tend to have cavities and other dental problems more often than other children.
You are naturally worried about your child's social growth. Infants and children with clefts may become withdrawn from both family and friends. It is very important to spend as much time as possible with your baby, cuddling, talking, hugging and so on. Later on, when your child is older and is making friends, it is important for you to make your home a safe place for your child. If you are worried about any problems with the growth of your child and his/ her making friends, then you should talk to your doctor. You may also want to talk to a psychologist or a psychiatrist.

Who is Going to Help my Child?
As soon as a cleft is diagnosed, your doctor will probably send you to a special medical team that will help you and your baby.
The team may include


Plastic surgeons


Speech pathologists (for problems with talking)


Audiologists (for problems with hearing)


Ear, nose and throat specialists (for ear problems)


Oral surgeons, orthodontists and dentists (for dental problems)


Psychologists, social workers and others.

What is all This Going to Cost?
Essentially surgery in a government hospital is free or with minimal charges. But consult your surgeon to confirm the same.

How Can We Tell Our Relatives and Friends About the Baby's Cleft?


Most new parents feel that this is a difficult task. Although you may feel uncomfortable, it is important that you tell relatives and friends as soon as possible. Try to be as direct and honest as you can. Your baby is much more than his or her cleft, and everyone needs to remember that. If the people closest to you can visit while the mother and baby are still in the hospital, this is often helpful. You may want to use this booklet to answer their questions.
If you accept your baby for what he or she is, everyone else will do too.

Will it Happen Again to my Next Child?
It may, although there are chances that your next child will be normal. If several family members are affected, the risk of clefts is higher in the children born in the family. Talk about this with your doctor, who may send you to a genetic counselor.