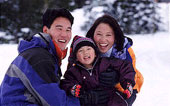 Every winter seems to be accompanied by colds, flus and a host of other diseases, especially if you live in a city exposed to climactic extremes. Here's what you can do to protect yourself from the harsh winter weather.
Showering


Come summer or winter, the morning rush doesn't stop, and every day it's the same story. Take a quick shower, gulp down a quick breakfast and rush out, trying to get a head start in the rat race. Before stepping in for a hot shower though, realise that a few minutes later you're going to be out in the cold, facing the chilly wind and close to zero temperatures. And as years of experience would have taught you, facing the cold immediately after being exposed to warmth can lead to nasal disaster! Of course, if you have the stomach to have a cold water shower in the cold winter months, we salute you, and go right ahead and storm into the cold weather without a second thought. But if you're like the rest of us and need a steaming hot shower in the winter, its best if you hold the thought, and the action, until later at night. Instead, the best thing to do in the winter is to shower at night, just before getting into bed. By the time you are ready to step out, it is a good ten hours later, and your body is no longer vulnerable to exposure. Showering or bathing at night removes the need to shower in the morning, and though you may feel more equipped to face the day after a morning shower, consider substituting it with splashing your face with cold water instead. Even if you are going to be in a heated office, you would still be better off showering at night than exposing your body to a few minutes of shock for the time you are outdoors, especially if you are prone to a cold. Similarly, make sure your kids shower at night, so they are not suddenly exposed to a cold, windy day at school immediately after a hot bath.

Cover up


Even if you don't feel cold, make sure you are well covered. 43 year old Maala Kochhar hardly felt the cold, and even in close to zero temperatures, she would just throw a shawl around herself before stepping out. Although she didn't feel the cold, her lungs did, and she was hospitalised last year with pneumonia, but didn't seem to learn her lesson, which is why she was recently hosptalised again this year with another attack of pneumonia. Understand that as you age, your body is less able to withstand the cold, and even if you have been used to exposing your body to the cold without feeling it when you were younger, there may suddenly be a time when your body breaks down and there's nothing you can do about it except pray for a speedy recovery. Depending on the degree of cold, make sure you keep your chest warm. Thermal vests are a must, because even if the heater is on when you are indoors and you remove your jacket, your chest is still protected against sudden drafts of cold. Always wear layers, so you can shed them depending on how warm you feel. Also, wear woollen socks and wear gloves. Often people in India don't wear gloves even in biting cold weather, with the result that they are walking around with freezing cold hands, and no matter how much they are wearing, they somehow never feel warm. Instead of wearing five sweaters, wear two, and wear gloves, leg warmers, woollen socks, woollen tights on your legs and a cap. Your entire body will be much better protected, and you will feel warmer.